International Student Tuition
International Student - 2019/2020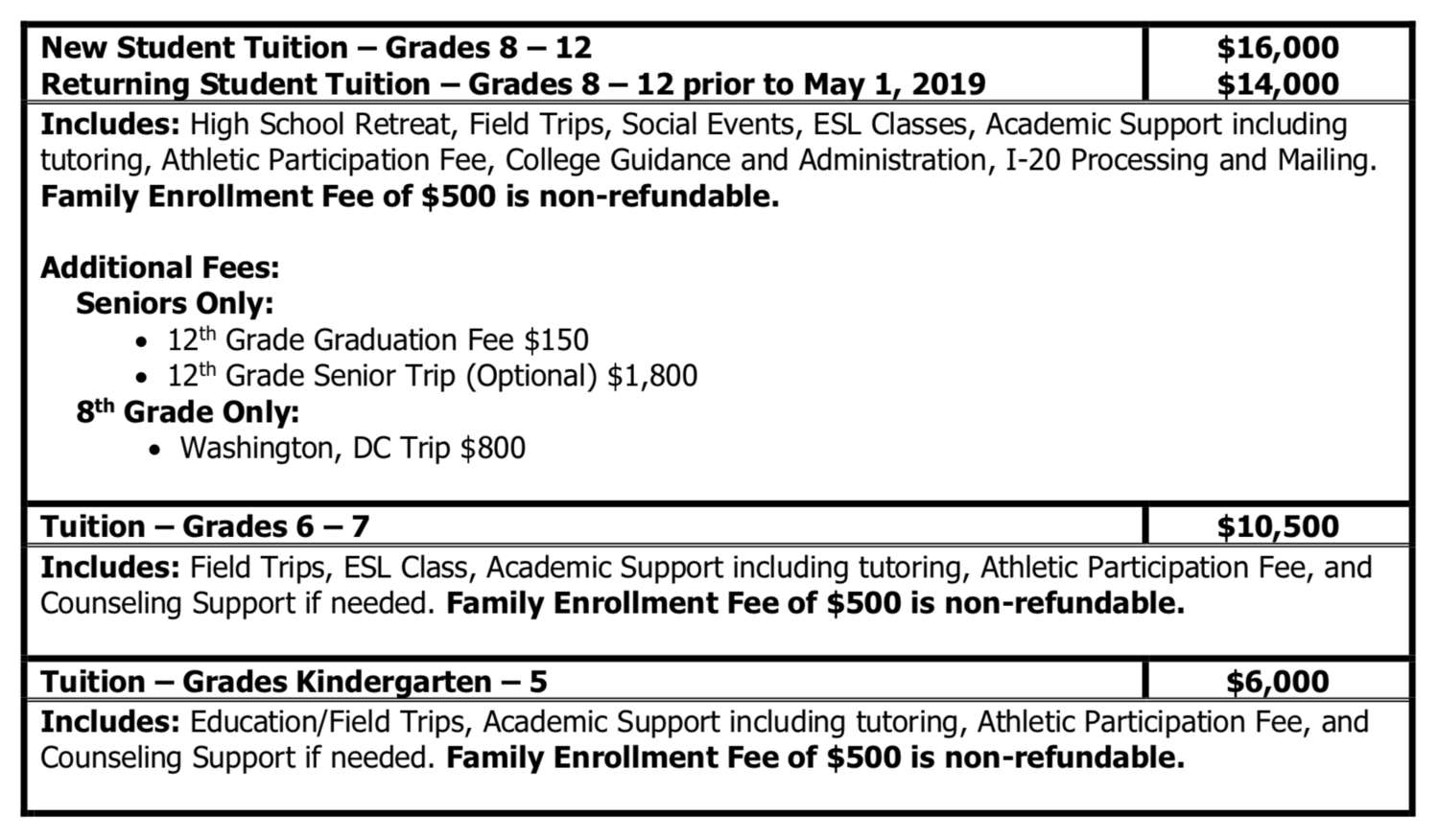 PAYMENT PLANS
Payment Plans
Full tuition payment due by June 10, 2019, or upon enrollment if enrolled after June 10, 2019, with a 1% discount given upon payment (Payment withdrawn via FACTS Management – $20 Annual Fee)
2 Payments due by June 10, 2019 (or upon enrollment if enrolled after June 10, 2019) and January 10, 2020 with a 1/2% discount given on each payment (Payments withdrawn via FACTS Management - $20 Annual Fee)
10 Monthly withdrawal payments via FACTS Management August 10, 2019 – May 10, 2020 or beginning the first month of enrollment and ending May 10, 2020 (Payments withdrawn on the 10th of each month via FACTS Management ($50 Annual Fee) via checking, savings or credit card (2.85% FACTS credit card convenience fee)
12 Monthly withdrawal payments via FACTS Management June 10, 2019– May 10, 2020 or beginning the first month of enrollment and ending May 10, 2020 (Payments withdrawn on the 10th of each month via FACTS Management ($50 Annual Fee) via checking, savings or credit card (2.85% FACTS credit card convenience fee)
Monthly withdrawal payments via FACTS Management commencing after August 10, 2019 require firstmonth's tuition payment to the PCS Financial Office prior to start of school.
A $750 withdrawal fee per student will be assessed for each student who withdraws from school after August 1, 2019.
Early Withdrawal: Should it become necessary for a student to withdraw during the school year, please submit the PCS Student Withdrawal form available under Parent Hub on the school website. The withdrawal fee is $750. Any refund of prepaid tuition will be prorated based on the actual number of days attended.
Latchkey Services: All monthly latchkey charges will be electronically drafted from your financial account with your tuition installment on your scheduled due date. (for the prior month) For those on an invoice plan, payments will be due no later than the 15th. If payments are not made in a timely manner, latchkey services will not be available until your account is brought current.
Late pickup - Parents will be assessed a $35 late fee the 2nd and 3rd time the student is picked up after 6pm. After the 3rd late pickup, latchkey services will no longer be available.